It is the mission of the Friends of the Eric Sloane Museum to assist in the preservation and interpretation of the Eric Sloane Museum and its collection, to encourage and promote visitation, and to enhance public appreciation of the legacy of artist and author Eric Sloane.
We work in concert with the State of Connecticut's Department of Economic and Community Development and the staff of the Eric Sloane Museum. The Friends of the Eric Sloane Museum is a 501(c)3 non-profit organization and our directors receive no compensation.  We are a welcoming and inclusive board of directors, and welcome new members to our board should you have an interest in serving.
Friends of the Eric Sloane Museum Founder and President James Mauch presents Museum Curator Barb Russ with a new weather monitoring station to be used with visitors and school groups. Meteorologist Mike Cameron from Channel 3 WFSB in Connecticut looks on.
Join our list of supporters and receive up-to-date information on friends and museum events and activities.
The Eric Sloane Museum was created through a partnership between the Stanley Tool Works, the State of Connecticut, and author and artist Eric Sloane (1905-1985). The museum was completed in 1969 and houses Eric's extensive collection of early American hand tools and a re-creation of his studio. The museum also has on display a collection of original works of art by Sloane, including examples of his oil paintings and pen and ink drawings.
Adjacent to the museum is a re-creation of Noah Blake's cabin, built to provide visitors with the experience of exploring the world of Noah Blake as Sloane envisioned it in his classic book Diary of An Early American Boy. In 2018, the Friends of the Eric Sloane Museum will begin restoration work on the cabin, which has been closed to visitors for more than a decade.  Click here to learn how you can become a part of this important project.  The campus also includes the remains of the nearly 200-year-old Kent Iron Furnace, as well as a walking trail tour of the iron making industry.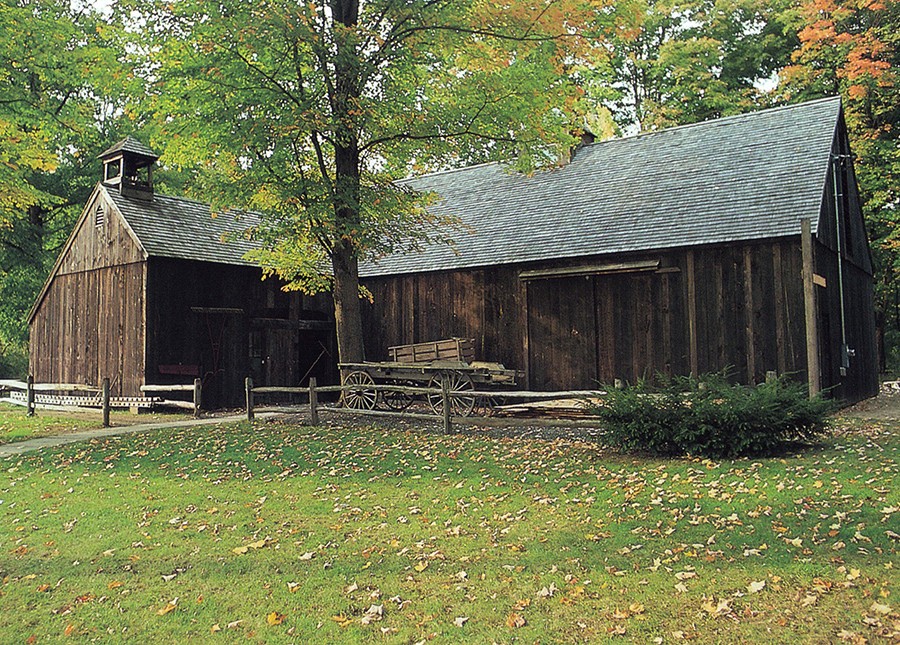 We're excited for the opportunity to begin to build the new Noah Blake Cabin in 2018.
 Click Learn More below for more details.