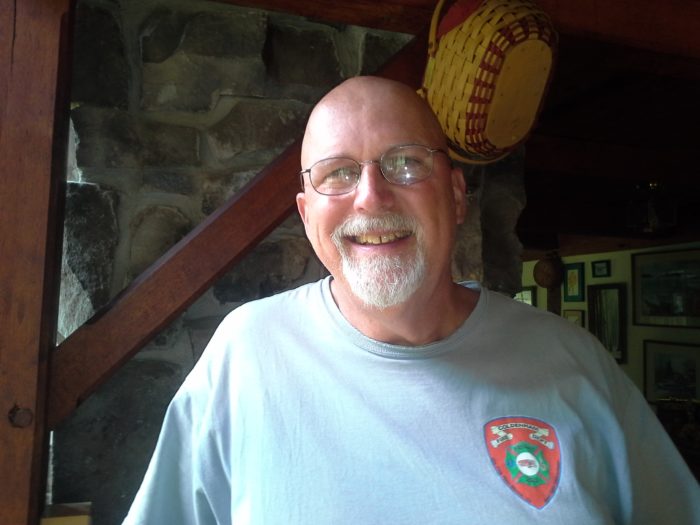 John grew up on a dairy farm in Warwick, Orange County, NY. He graduated in 1978 from Fairleigh Dickinson University with a degree in Electrical Engineering. He worked as an electrical engineer for IBM for the next 38 years, retiring in 2016. John is currently the Historian for the Town of Montgomery, also in Orange County. He lives with his wife Rose in Walden, NY, where they own and manage a tree farm. They are members of the Historical Society of Walden and the Wallkill Valley. John served previously as a trustee on the board of that society. He is also a volunteer firefighter in his community.
John has a passion for post and beam construction. He and his wife built their own passive solar home and large barn and have helped four other local families with the design and construction of their own post and beam homes. In 2004, he took over the design, joinery and raising of the timber frame for a cottage that stands on the grounds of the Brick House and Farmer's Museum in Montgomery, NY. The cottage is a replica of the Abraham Brian farmhouse located on the Gettysburg Battlefield in Pennsylvania. The cottage and museum grounds are used for Civil War re-enactments by the 124th Regiment New York State Volunteers, known as the Orange Blossoms.
John has been a fan of Eric Sloane since the mid-1980s and a serious collector of all things Sloane for the last 15 years. He is currently writing a book on Sloane, continuing the work started by Dr. Dean Mawdsley with The America of Eric Sloane: a Collector's Bibliography. John is looking forward to working with the Friends board and the community in restoring the Noah Blake cabin on the grounds of the Eric Sloane Museum over the next few years.