The Noah Blake Outhouse, Rebuilt and Returned
In the summer of 2016, Barb Russ of the Eric Sloane Museum was made aware of an estimate to have the Noah Blake Outhouse refurbished, the low estimate coming in at over $7,500. Friends board founder and president James 'Wil' Mauch conferred with Barb and with Catherine Labadia of the Connecticut Department of Economic and Community Development concerning the willingness of the state to have the Friends assume responsibility for the outhouse, and it was agreed that Wil would either restore or replicate the outhouse based upon an assessment of the structure.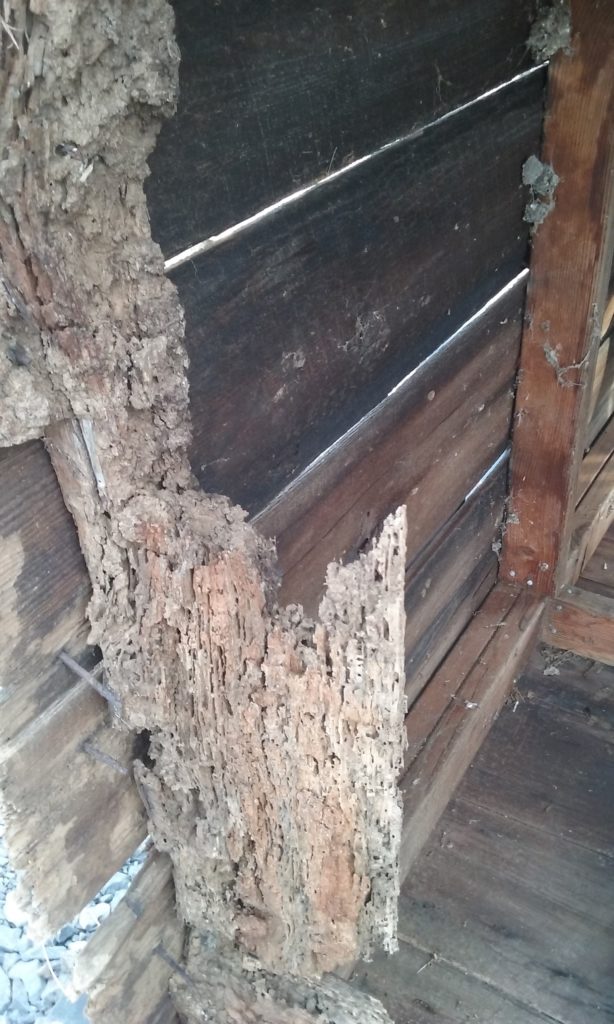 The underside of the Noah Blake outhouse revealed the substantial degradation of the bottom support structure.  Much of the wood showed signs of wood destroying insect infestation.
The initial intent was to repair the outhouse following the recommendations set forth by the architectural firm hired by the state of Connecticut to provide building assessments for structures at the Eric Sloane Museum of Kent. Unfortunately, the outhouse was more substantively degraded than it appeared in situ. After a thorough condition assessment, it was determined that it would have been very difficult and not cost effective to repair the outhouse following the plan set forth in the architectural overview document.  It was far more cost effective to replace the outhouse, with the added benefit that the outhouse would be more in keeping historically with what Eric Sloane envisioned in Diary of An Early American Boy.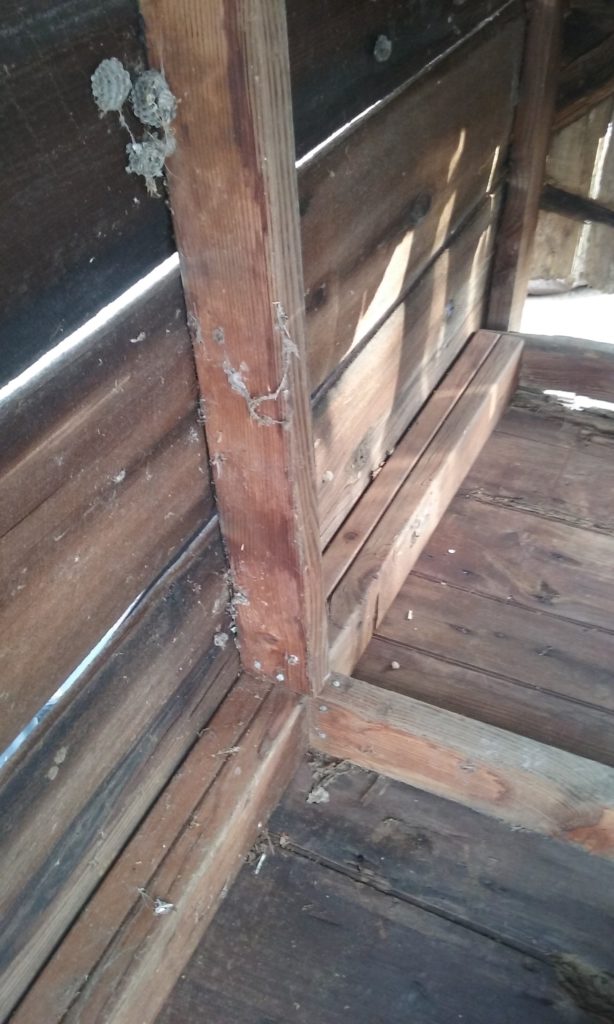 Interior framing of the Noah Blake outhouse, showing modern dimensional lumber and framing nails.
Detail of the framing used in the Noah Blake outhouse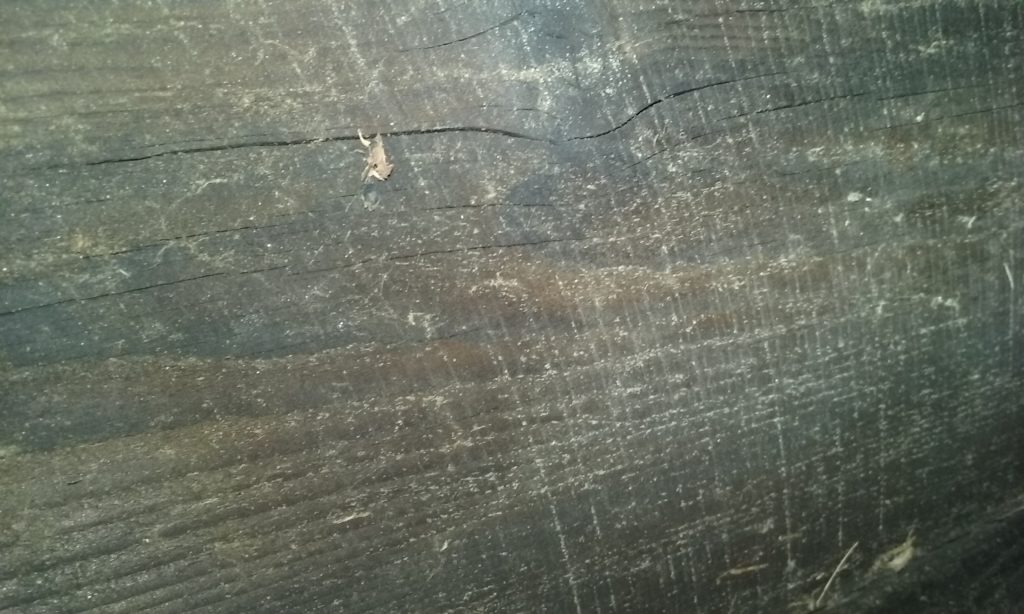 Unfortunately, most of the sawn lumber was rotted and displayed obvious signs of having been cut with a circular blade.  Ironically, Sloane himself wrote of the invention of the circular saw by a Quaker woman in 1825.  Others have pointed to an earlier date for the invention, but either historical possibility makes it difficult to believe that an outhouse supposedly standing in 1805 would be clad in boards that were cut by a circular saw.
The approach taken in the reconstruction of the Noah Blake outhouse was one that placed the outhouse in context with both what Eric drew in his illustrations for the Diary book, as well as what was happening historically in the Kent area c. 1805.  Both suggested heavier timber framed construction, blacksmith forged nails, period door hinges, split shingle roof shakes, and lumber dressed to reflect ways of working wood in the period.
The discussions and research that informed the approach of the outhouse was considered when discussing the refurbishment of the Noah Blake cabin.   The cabin, it turned out, presented many of the exact same challenges as the outhouse, with an added and important twist…