Pictured, Left:  Some of the younger artists of the 2013 Trash Art! Exhibit and Sale.  Pictured, Right:  Friends of the Eric Sloane Museum board member Bob Coppola was busy in the Friend's Hospitality Tent helping to build toys with our youngest visitors.
          The quality of the art was nearly unbelievable!  What a fabulous event – the Opening Reception for the artists of the 2013 Re-use, Re-cycle, Re-Imagine, Re-purpose:  Trash Art! Exhibit and sale which runs through July 27th at the Eric Sloane Museum.  Twenty seven artists participated in the show, displaying nearly 75 pieces of art.  The level of imagination and skill on display is incredible.
   Many visitors came to the artist's reception and to view the works of art on display
          I had the pleasure of meeting and speaking with several artists including Frank Self, Liz Tobin, Arista Baltronis, Patrick Purcell, Aiden Cherniske, Friends of the Eric Sloane Museum member Clayton Preston, Andrew Richards, Joe Buda, Molly Burke, and Heaven L. Darling.  Everyone was super excited to be a part of this event and the repose was so positive that the Friends of the Eric Sloane Museum are discussing having a 2014 Trash Art event that would explore next year's theme of clouds and the sky.  More to come on this topic, I promise.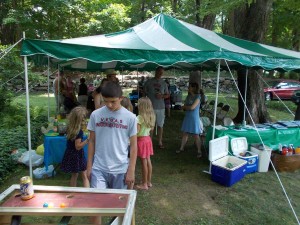 Always nice to visit with members of the Friends of the Eric Sloane Museum
            The Friends of the Eric Sloane Museum, along with the staff of the Eric Sloane Museum, extend our thanks to our artists, who did a marvelous job pitting their own interpretations, imaginations, and certainly skills to work to make the 2013 Trash Art! Exhibit and sale a success:
Marylyn Hendricks
Laurence Hendricks
Liz Tobin
G.R. Boggs
Barbara Egenes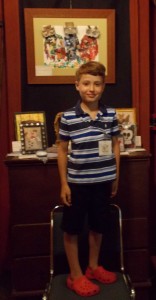 Cyd Gorman
Arista Baltronis
Frank Self
Julia Spagnolo
Diane Mesagno
Patrick Purcell
Aiden Cherniske
Clayton Preston
Andrew Richards
Nicollette, Penelope, Julianna, Evan, Marco & Sebastian
Dayna Wenzel
Joe Buda
Lyn Priestman
Molly Burke
Heaven Darling
James Mauch
Edith Mauch