When Chinese firecrackers entered the scene, Independence Day bell-ringing vanished.  But the thought of church bells and farm bells and school bells and fire bells all clanging through the countryside seems best to catch the spirit of that first American day.  It would be fitting, it seems, to revive the bells of Independence Day.
                                                 -Eric Sloane, The Seasons of America Past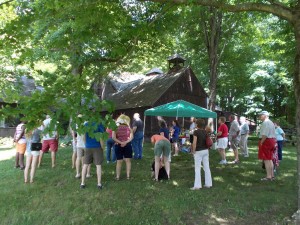 A nice crowd joined us for Ringing of the Bells ceremony at the Eric Sloane Museum 
We recently returned from a wonderful trip to the Eric Sloane Museum to celebrate The Ringing of the Bells Ceremony on the museum grounds.  What a special event.  For those of you who have not had the pleasure of attending, it is a quiet affair – until the bells commence ringing at 2 p.m.!  We added an additional ring to the cacophony by bringing along a 300+ lb. brass Civil War-era locomotive bell to accompany the steel one which Eric had installed above the museum.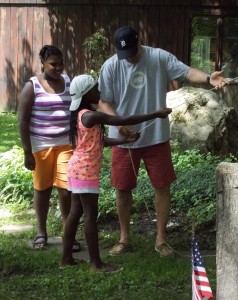 Kima and Brianna take their turn at ringing the Eric Sloane bell    

I hope that it [The Sound of Bells] might not only enrich the lore of Americana, but also, and perhaps more important, that it might enrich the lives of many young Americans.
                                                – Eric Sloane, The Sound of Bells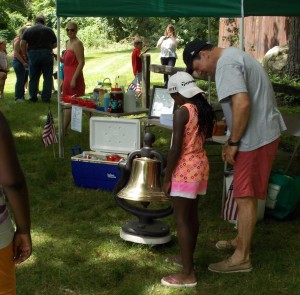 The Civil War-era locomotive bell with the Friends of the Eric Sloane Museum Hospitality Tent in the background.  Thanks to everyone who came to share the day!
            Wife Beth and daughter Edith helped to run the Friends of the Eric Sloane Hospitality Tent, an initiative launched by the organization earlier this year.  We handed out free soft drinks, lemonade, iced tea, snacks – and to keep with the season and the colors of the fourth, fresh strawberries and blueberries.  We had as much fun as the guests!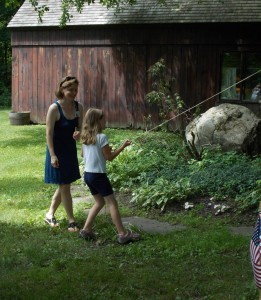 Edith and Beth Mauch take a turn at ringing the Eric Sloane bell
            Barb Russ gathered everyone to hear James Purdle explain the connection between Eric Sloane and bell ringing on the fourth of July.  Then, one by one, our guests were able to ring both Eric's bell atop the museum and the locomotive bell, which I am sure brought some attentive and nostalgic ears alive in the town of Kent.  I met Dr. and Mrs. Peters, a lovely couple who joined The Friends of the Eric Sloane Museum at the family membership level (thank you!) and I enjoyed re-connecting with Dick Lindsey of the Kent Historical Society and meeting his lovely wife Charlotte, speaking with Davia Fink of the Kent Art Association.  There seems to be great buzz and anticipation for the upcoming exhibit and sale entitled Re-use, Re-cycle, Re-imagine, Re-purpose: Trash Art, which will open with an artist's reception on July the 20th and run through to the 27th.  We have some fantastic artists exhibiting their creations and thank them for their time and amazing abilities.  We hope to see you for the reception and show!